Yet another installment of my baking adventures. This one is not a sweet though, it's a meal. A very delicious meal that I enjoyed, the boyfriend....not so much. He's a very picky eater and deemed it "messy." Not to mention he doesn't like tomatoes, so the chucks in the sauce were not a hit. Oh well. Like I said I enjoyed it, as did my friend who I brought some down to.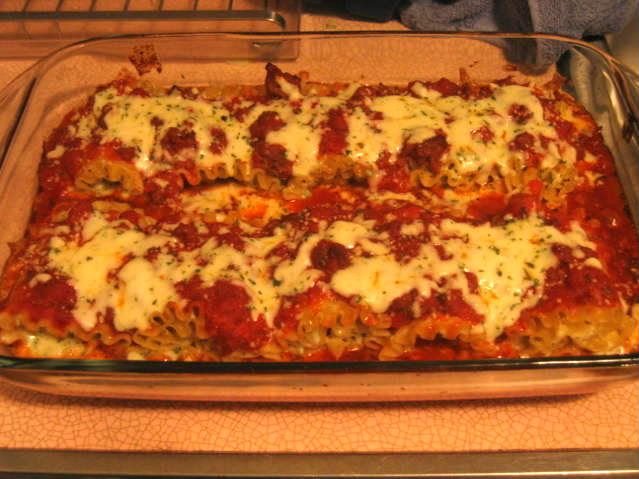 First I made the spaghetti sauce. It's a mix of ground meat, crushed tomatoes, and various seasonings.
After the sauce was done, I spread an even layer on the bottom of a Pyrex dish.
While the ground meat was browning, I grated up some Mozzarella cheese and mixed that with a handful of Parmesan cheese as well as some parsley flakes for the filling. I unraveled a lasagna noodle (I already cooked these btw) and spread some of the cheese mix onto it. Then rolled it up and placed it on top of the sauce in the Pyrex dish.
I spread what was left of the sauce over the rolls. These made 10 rolls, so I ended up having some noodles leftover. Then into the oven it went, at 350, for about 30 minutes. At the 25 minute mark, I sprinkled some of the cheese mixture I had set aside, on top and let it go for the rest of the time.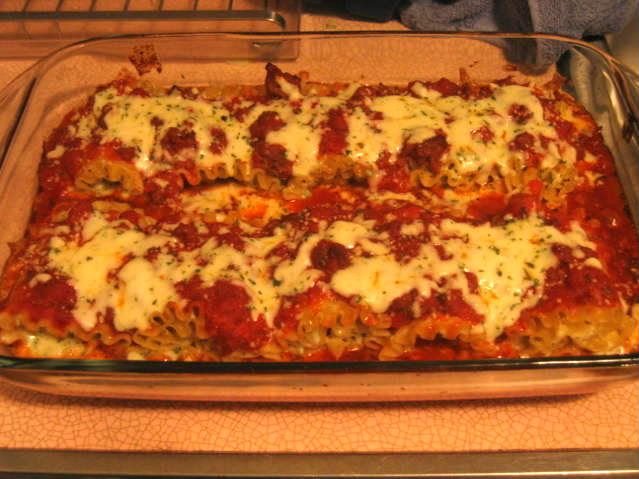 I may have let it go just a bit longer, probably about 10 minutes longer after the intial 25 so the cheese could melt and be all bubbly with goodness. But that's the end result. And it was quite delicious as I've stated. While he said it was "messy" the boyfriend did try it and love the cheese/noodle combo. I also made quick side salad with lettuce, tomatoes, and cucumbers to go with it.
feel:
accomplished